Even the most dedicated film enthusiasts occasionally venture into the digital realm (after all, you're not reading this in print, are you?). As you explore the vast online photography landscape—browsing through photo blogs, feeds, and profiles—you're bound to stumble upon some intriguing images.
They appear as if they were captured on film, yet they possess an inexplicable element of movement and depth. These images are indeed the result of a film camera, but not just any run-of-the-mill one—it's a triple-lens camera that allows you to capture a series of static images that can later be digitally transformed into animated GIFs. Behold, the RETO3D camera.
Until now, the RETO3D has been available only in a sleek black colorway. That changes today. We've joined forces with the fine folks at RETO to introduce an exclusive Retrospekt Edition of the RETO3D camera. This edition features a beige body adorned with vibrant orange accents, and the only place you'll find it is right here with us. We're always thrilled to collaborate with brands that share our passion for analog technology, especially when it leads to the creation of vintage-inspired products.
Originally launched in 2019, the RETO3D's multi-lens design draws inspiration from cult-favorite 3D cameras of the 1980s, such as the Nimslo 3D and the Nishika N8000. While those '80s cameras exude undeniable coolness, regrettably, they aren't the most dependable vintage cameras out there.
Even in less-than-pristine condition, they command a premium, making them a less accessible option for budget-conscious photographers. Priced at just $109 USD, the RETO3D camera offers an affordable alternative to its vintage counterparts.
But how does this compact camera transform everyday scenes into larger-than-life 3D images? Each of the camera's three lenses simultaneously captures the subject from slightly different angles, resulting in three subtly distinct images across 1.5 frames of 35mm film. After film development and scanning, users can combine these three images using Photoshop or upload their photos to the RETO mobile app.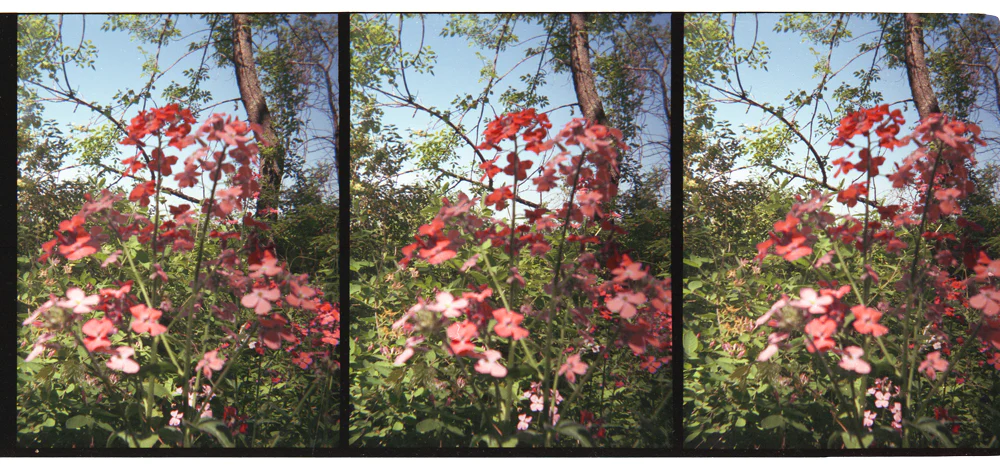 The result? Those three images seamlessly blend into a single moving image. Export it as a GIF or video, and it's ready for digital sharing. As each shutter click consumes 1.5 frames of film, a 36-EXP roll produces 24 captivating 3D pictures, while a 24-EXP roll yields 18.
The RETO3D's futuristic images might catch your eye, but 3D photography, also known as stereoscopy, has been around since the mid-1800s. Before the era of smartphones, apps, and triple-lens cameras, viewers had to gaze at two regular photos and cross their eyes until a third image emerged in the middle.
Of course, technology has evolved significantly since the 19th century, and 3D photography has adapted to the ever-changing times. Remember the '90s Magic Eye books or the craze for 3D movies in the late 2000s?
Today, 3D photography continues to gain popularity on Instagram and other digital platforms. It's no wonder the #RETO3D hashtag boasts over 21,000 posts and counting. The camera bridges analog technology with digital convenience, offering a truly unique film photography experience. Plus, it's incredibly user-friendly, making it an ideal way to introduce digital natives to the world of film photography.
Now, you can get your hands on the RETO3D Retrospekt Edition 35mm Film Camera on our website. And don't forget to pick up a roll of film to embark on your 3D photographic journey!