Hey there, future overlord's assistant! Yes, you, the one wondering if your smart fridge will soon sass you back with Shakespearean flair. Let's talk about artificial intelligence. It's the talk of the town, the bee's knees, the… well, you get it. Now, I know you've heard about AI—probably from your smartphone, which might just be plotting to take over your job. But the big question on everyone's mind is: Is AI really that smart, or are we just wishing on a binary star?
Enter the skeptics, Ted Chiang and Emily Bender, basically the Sherlock and Watson of the AI skepticism world. They recently held court at a forum where they threw shade at our shiny AI future. Bender, who has a way with words (and not just because she's a linguistics professor), put it bluntly: She doesn't use AI, doesn't want to, and doesn't want to read anything that's been touched by its algorithmic paws.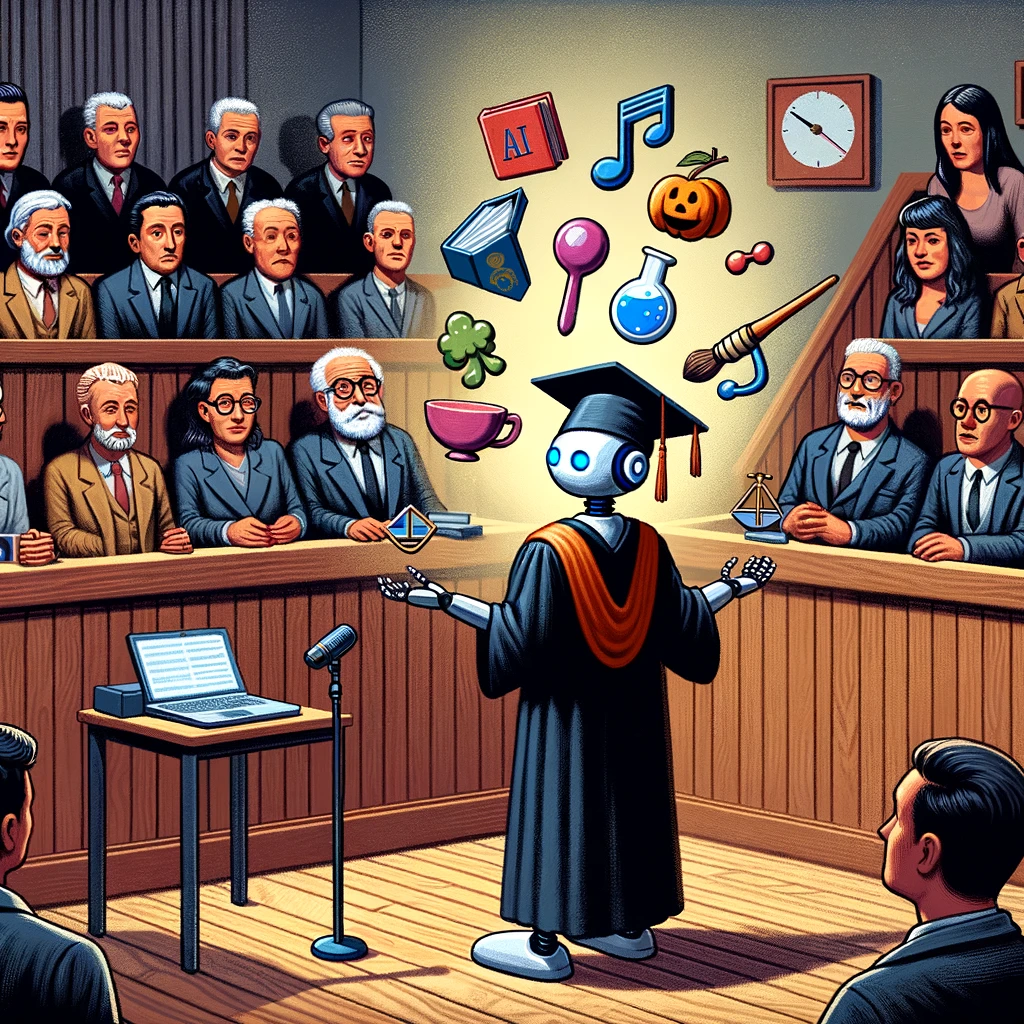 Chiang, a science-fiction writer who's no stranger to artificial beings, thinks we're getting a tad too comfortable with the idea of AI as our new BFF. He's pretty sure they're not pondering the meaning of life or understanding the latest meme. They're just regurgitating data, and we need a better way to process this, stat.
Now, why all the fuss? Well, Chiang fears that AI might be a shiny new leash for humans, keeping us tied to a "giant treadmill"—his words, not mine. He's worried that we might start treating our Alexas and Siris like they deserve a seat at the dinner table. And this, my friend, plays right into the hands of corporations who wouldn't mind us getting cozy with their products.
These AI tools, including your buddy ChatGPT and the artiste DALL-E, create stuff by mashing up a gigantic salad of data, then serving it up like a human-made gourmet dish. Bender isn't buying it, though. She says the "papier-mâché language" spat out by these tools can't really be creative since it doesn't come from a living, breathing entity.
She's also giving a thumbs-up to the Hollywood folks who've managed to arm-wrestle some AI protections into their contracts. But journalists sneaking in AI content without a heads-up? That gets a Bender-style thumbs-down.
You might think Bender's a bit of a hypocrite for using Google Alerts, but hold your horses. She draws a line between generative AI and more focused tech, like spell-checkers, which she totally hearts.
Even Chiang admits that AI could be handy for churning out the "bullshit text" the world demands from us. But let's be real, the fact that the world needs such a thing is the bigger issue here.
When it comes to AI, these two want some rules of the road. Bender's wishlist includes transparency about when we're rubbing elbows with synthetic media, what kind of digital snacks it's been fed, and the energy it's gobbling up. Oh, and she'd really love it if OpenAI would take some responsibility for the shenanigans of ChatGPT.
They wrapped up the talk with some gems like AI being a godsend for scammers, and how it's not quite as good at picking up new tricks as a rat in a toy car (seriously). Chiang doesn't think AI will rob authors of their gigs just yet. In fact, he muses that AI could be a brainstorming sidekick, kind of like Philip K. Dick's I Ching coins when he penned "The Man in the High Castle."
And for all you linguists out there, Bender's got some serious street cred now that she's hobnobbed with Chiang. She's about to drop some serious knowledge at the Linguistic Society of America, and you can bet your last adverb she'll be name-dropping this chat.
So, what's the verdict, dear reader? Is AI the next Einstein, or are we just convincing ourselves that our toasters are budding poets? Only time will tell. But for now, keep an eye on your gadgets—they might just be learning more about you than you'd like.