In a groundbreaking move, WhatsApp Beta has embraced the power of artificial intelligence by introducing AI stickers to the popular messaging app. This marks a significant milestone as WhatsApp's first venture into AI-powered features. As of now, this exciting functionality is gradually rolling out to select users who have updated to WhatsApp beta for Android version 2.23.17.14. With this novel feature, users can craft personalized stickers by conveying their visual ideas to AI, and it's set to become available to WhatsApp users worldwide in the near future.
WhatsApp Evolution and Digital Responsibility
as of December 2, 2023 4:50 am
WABetaInfo, the renowned feature tracker, unveiled this new update, emphasizing that it's currently accessible to a limited group of beta testers. Just like any other sticker, the AI-generated sticker feature can be found in the stickers tab. To bring your custom sticker to life, simply tap on the newly added "Create" button.
Here's a step-by-step guide on how to create AI-generated stickers on WhatsApp:
Launch the WhatsApp app and open any chat.
In the chat, locate the smiley icon at the bottom to access the stickers window.
Once you have access to create AI stickers, click on the "generate your own AI sticker" option.
Select 'Create' and describe the specific details of the sticker you have in mind.
The feature will then offer you various options based on your description.
WhatsApp Book: Status, Group Name, Facts, Tips & Tricks
as of December 2, 2023 4:50 am
The remarkable aspect of AI-generated stickers is that they come to life based on the user's provided description. Your imagination is the only limit!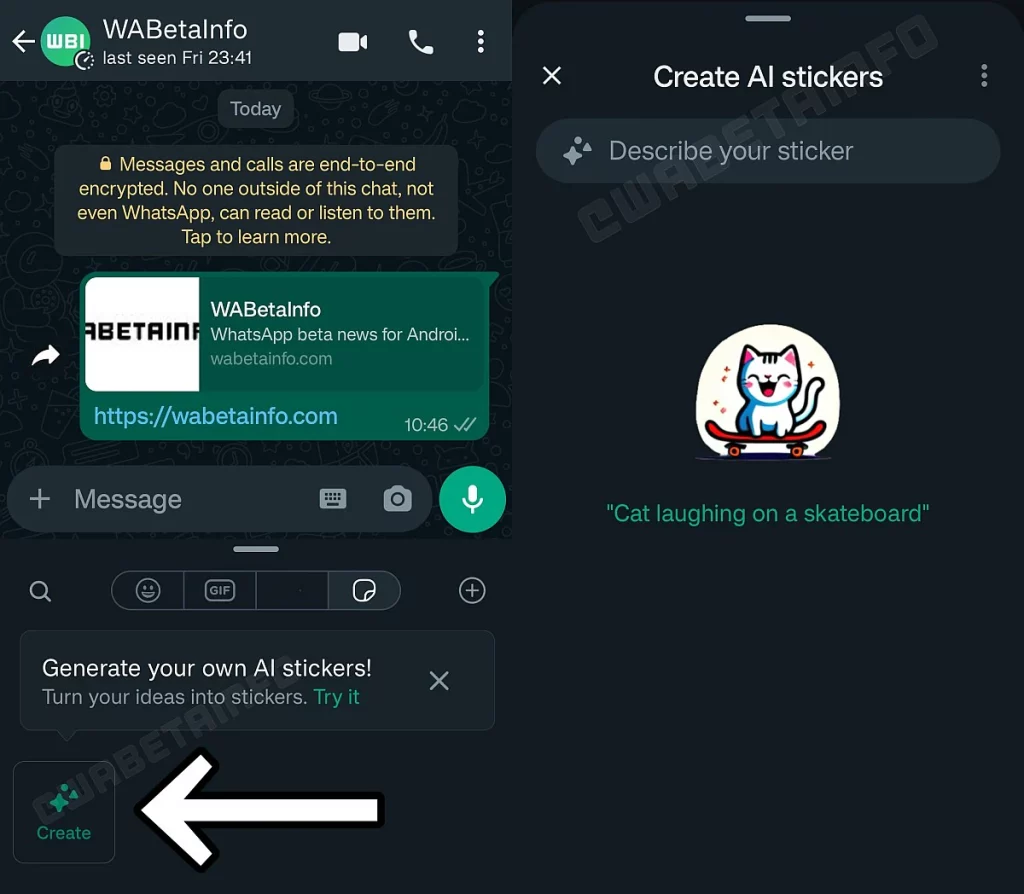 While WhatsApp has not divulged a specific timeline for making this AI sticker feature available to all users, it's worth noting that Meta, WhatsApp's parent company, has not disclosed the identity of the generative AI behind these stickers. Given that generative AI raises concerns about security and copyright issues, it remains to be seen if Meta will implement additional measures to safeguard these innovative AI-generated stickers.
How do I use WhatsApp Status Update?!: (Book 3) iPhone and Android
as of December 2, 2023 4:50 am
Get ready to infuse your WhatsApp conversations with a touch of personalization and creativity through AI-generated stickers, as the future of messaging takes a captivating turn.